Contingency Contract #3 – Operation Cinder, often simply known as Contingency Contract #3 or Contingency Contract Cinder, is the fifth season of the namesake seasonal event in Arknights.
Release date
CN
November 15, 2020 ~ November 29, 2020
Global/EN
May 28, 2021 ~ June 11, 2021
TW
September 23, 2021 ~ October 7, 2021
Operations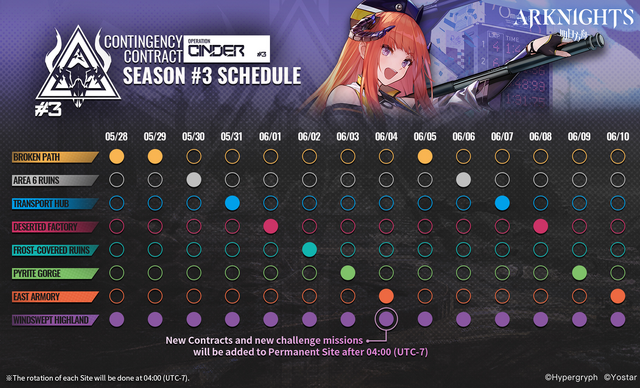 Secret Sanctuary
To buy all new items in the Permanent Trade Center and those with limited stock in the Special Trade Center, the player must spend 5900 

.
Assuming that the player clears all Rotating Sites with Risk 8, clears Windswept Highland with Risk 18 and all Challenge Contracts completed, and unlocking all contracts on Deserted Factory (now a Rotating Site) and the newly introduced Area 6 Ruins, the player can earn up to 4325 

. Therefore, one should prioritize the most important items first, preferably

 Royal Guard Token and/or the Queen No. 1 outfit.
Headhunting
The third Joint Operations headhunting banner is featured.
Miscellaneous
Medals