This article is about the Terran term. For the song by Starset, see Infected (song).
In the world of Arknights, Infected is an epithet used to refer to individuals who are suffering from Oripathy. It may be used as a derogatory term in certain cases.
Overview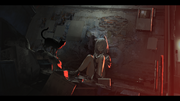 The Infected are very common in Terra, owing to the fact that Originium, the prime cause of Oripathy, plays an important role in the Terran industry and technology.
Because of the Terrans' deeply rooted hatred towards the Infected[1] ever since the ancient times,[2] Infected in many Terran countries are shunned and discriminated by the non-Infected. Such hatred stems from the fact that Oripathy is (as of the current timeline) incurable and could spread via direct contact (though this is a popular, exaggerated misconception) or upon the disintegration of the Infected's body and crystallization into Originium Dust on death.
The treatment of the Infected varies by the country, with the following being the worst:
Most Terran countries, however, treats the Infected better (if not as bad) than the above:
It is, however, an important thematic of Arknights' storytelling that the countries that do not outright persecute the Infected are more than likely "whitewashing" their prejudice and concealing some other form of exploitation of the Infected. The harsh treatment faced by the Infected is the main contributor to the bleakness of Arknights' setting, although it is also very frequently pointed out that strife and oppression does not stop at the Infected, and the specter of Oripathy is only one of Terra's many problems.
The majority of Infected who suffered from the Terrans' prejudice have become distrustful and embittered towards the non-Infected, with some even harboring deep feelings of vindication, that led to them using violent methods to liberate the Infected from misery, as attested by the existence of the Reunion Movement. Some Infected, however, choose to seek for non-violent methods to end their suffering, with Rhodes Island being the most notable of them.
References